Sat, 13 May 2017 at 12:00 pm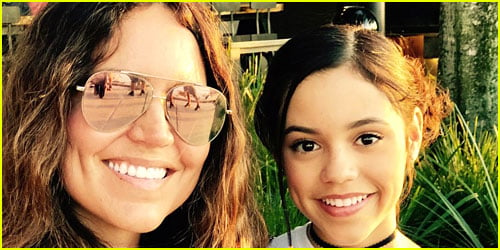 Jenna Marie Ortega group up one of six children. In other words, her mom had her hands full!
When the now-14-year-old Jane the Virgin actress discovered a love of acting at only 6 years old, her mom, Natalie Ortega, didn't hesitate to support her.
No surprise, Jenna (who you might also know as Harley Diaz from Disney Channel's Stuck in the Middle) is eternally grateful for her mother!
In Jenna's eyes, she literally wouldn't be where she is today without her mom, and you'll see why.
For our multi-part Mother's Day series, Jenna penned a letter to her mother, straight from her heart.
Dear Mom,

You are the most phenomenal human being I have ever met. It is as simple at that. You deal with 6 kids, two grandchildren, and a job as a full-time nurse in the ER. You have sacrificed your life for all of us kids to follow our dreams and I cannot even put into words how much I appreciate you. You are always there for me when I need a shoulder to cry on, when I need help with anything, and when I just need a good laugh.

You inspire me every day to work my hardest and to be the kindest me I can be. I owe my whole career to you. You have always believed in me and done whatever you could so I could be happy doing what I love, and I am.

I never want to see you in pain and I never want to put pain upon you. You are my inspiration, my partner in crime, and my hero. I thank God every day for blessing me with the most amazing woman he could muster, one who is an inspiration to all.

You are empowering. You are strong, you are beautiful, and you are kind. I love you, mom. I love you more than anyone could ever imagine.

Love,
Jenna
Like Just Jared Jr. on FB