Sat, 13 May 2017 at 2:00 pm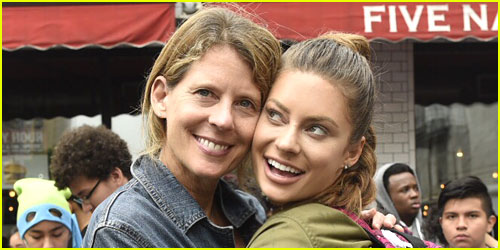 Social media star Hannah Stocking's letter to her mom is hilarious (dead goldfish), adorable (hi, Sound of Music) and heartfelt.
The 25-year-old model and YouTube star has a way of expressing her feelings that makes you both tear up and laugh at the same time.
In our multi-part series, Hannah wants her mom to know, she's really, really grateful for everything she has done.
Dear Mom,

Thank you for all of the times you've sung me "Edelweiss" to sleep, made my favorite mac n cheese, checked in on me, supported me, inspired me, driven me to school, helped me with my homework, cheered at every volleyball game and most of all given me the most undeserving amount of love.

Words can't express what a wonderful human being you are and how grateful I am to have you as a role model. You're the person who never curses, sees the good in everyone, and gives goldfish a proper burial.

You are amazing. You and dad are the hardest working and most kindhearted people I will ever know. I hope to be just like you when I grow up. I truly hope you see that nothing you have done has gone unnoticed. Thank you for all that you do. I love you so much!

Love,
Hannah
Click inside to see more amazing letters…

Gabi DeMartino truly bares her soul in her letter to her mom
Like Just Jared Jr. on FB