Thu, 18 May 2017 at 1:59 pm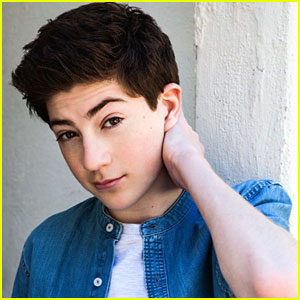 The Goldbergs star Mason Cook is all grown up.
You may know Mason from as Tyler Stansfield on the period series The Goldbergs (he started on the show when he was only 13), which aired from 2014-2016.
The now-16-year-old actor currently stars on Speechless, which just got picked up for a second season!
To celebrate his show's success, we thought we'd take some time to dig into Mason's life.
JustJaredJr: What are the most five played songs in your playlist?
Mason: "Slide" by Calvin Harris feat. Frank Ocean, "Passionfruit" by Drake, "The Chain" – Fleetwood Mac, "Castle on the Hill" by Ed Sheeran, and "Mask Off" by Future.
JJJ: What is your favorite hobby?
Mason: Right now, my favorite hobby is playing soccer. My schedule is too busy to be on a team, so I play a lot with my brother and friends on their high school soccer field. I recently went to see the LA Galaxy play, which was fun, but my goal is to see Real Madrid play in Europe.
JJJ: Do you have your driver's license?
Mason: I don't have my license yet, but I really want to get it. I am a car person. I love all kinds of cars — from classic cars to insanely fast sports cars. I am going to do Drivers Ed over the summer, so it will be a while before I have my actual license, which means the streets of LA are a little safer for now.

Click inside to see who is Mason's celebrity crush, what he's doing this summer and what he looks for in a girl…

JJJ: Who's your celebrity crush?
Mason: Margot Robbie. She has it all. She was hilarious on Saturday Night Live, she kicked butt in Suicide Squad and she is obviously gorgeous. Unfortunately, she is married. I guess that's the one thing I don't like about her.
JJJ: What is your favorite Disney animated movie?
Mason: I'm going to throw this way back to when I was 5 years and say Lilo & Stitch. I was pretty much obsessed with Stitch until we went to Disney World and we rode the 4D Lilo & Stitch ride. I was completely traumatized when I felt Stitch's hand grab my ankle in the dark.
JJJ: Any fun plans this summer?
Mason: I am super excited about this summer, because I just found out my family and I are going to Europe. We are going London and Paris. At the end of the summer, my older brother Lane is leaving to go to college at the University of Oregon, where my sister Lilly also goes to school.
JJJ: What are the qualities you love in a girlfriend?
Mason: I like girls who have a great sense of humor. I am pretty dry and sarcastic and love to laugh, so that is super important. I like confident girls who are comfortable being themselves and don't feel like they have to put on an act or wear a ton of makeup to be pretty. I am not huge into parties or the L.A. scene. I would much rather go on a date to ride bikes at the beach or dinner and a movie.
Like Just Jared Jr. on FB