Thu, 18 May 2017 at 8:21 pm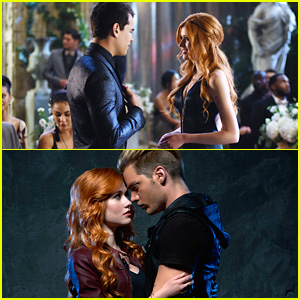 We know it's inevitable — the Clace and Climon love triangle is definitely coming for us in season 2B of Shadowhunters.
What we don't know is just how it will end up.
With the reveal that Jace is no longer her brother, will he now make a move on Clary?
"Jace has an opening if he wants it," Katherine McNamara shared in a new interview. "But he and Simon have also become closer, and he doesn't want to step on those toes. He doesn't want to get in the way of Clary's happiness or of Simon's."
Katherine makes an really good argument for Clace to be endgame though.
"Clary and Jace have had a connection from moment one. They're drawn to each other; they're connected," she says. "Their chemistry is just electric, and when you have two characters like that, they will never be out of each other's lives."
Kat adds, "You saw that in that fight in Episode 7. They were working as a team; they were perfectly in sync, and that will continue, but it will continue to be tested and pushed and challenged and brought to its limits because of the other extraneous circumstances."
So, are you Team Clace or Climon?
Like Just Jared Jr. on FB