Fri, 19 May 2017 at 4:24 pm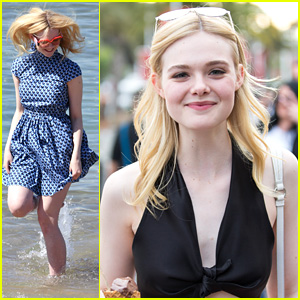 Oh, sisters…
Dakota Fanning will never let Elle Fanning live down the fact that she still sleeps in pajamas that she actually made when she was younger.
"I have these pajamas that my sister completely makes fun of," Elle shared with PeopleStyle. "She was like, 'We are going to burn these' because I've worn them since I was little."
But she just can't burn them — they're very special to her.
"They're oversized Dr. Seuss boxers and this Gap red shirt. I think it was for a charity my sister had done with Bono," Elle shared.
She adds, "I cut the whole neck out and made it bigger….It was my designer phase of wanting to cut my clothes and make them unique. They go with me everywhere—those pajamas are staying with me for my entire life…or until they disintegrate."
Elle is pictured out and about in Cannes, before and after walking the red carpet for the opening ceremonies this week.
Like Just Jared Jr. on FB