Fri, 26 May 2017 at 5:18 pm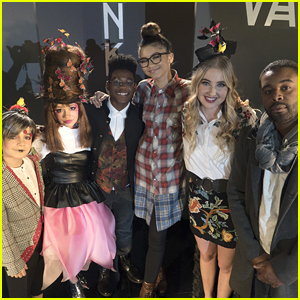 Admit it, we've all mis-pronounced Zendaya's name at least one time in our life.
But now that we know better, Disney Channel is rewarding us with an all-day Zendaya marathon!
All day on June 3rd (next Saturday), it's ZenDAYa day! The channel will be featuring an all-day marathon of K.C. Undercover episodes and Zapped just for the occasion.
The ZenDAYa event will also include the brand new "A Fans Guide to Spider-Man: Homecoming" with Spider-Man: Homecoming with stars Tom Holland and Zendaya.
A special encore presentation of Walk the Prank: K.C. Undercover Edition will also be aired.
Click inside for the full line-up!
"Zapped" (12:00 p.m. ET)
In the popular Disney Channel Original Movie "Zapped," Zendaya stars as Zoey, a skilled dancer and model student whose well-ordered life is up-ended when her mother remarries and she finds herself part of a family composed of rambunctious, chaotic – and most of all – messy boys. Nothing seems to be going right for the savvy teen, until she discovers the dog training app on her smartphone can now somehow magically control boys.
"K.C. Undercover" marathon (1:45 p.m. – 7:00 p.m. ET)
Includes fan-favorite episodes from season one and two.
"Walk the Prank: K.C. Undercover Edition" (7:00 p.m. ET)
In the special episode, Zendaya, Veronica and Kamil join in on the prank action with Uncle Will, Herman and Bailey to pull off a fashion show prank that leaves an unsuspected target believing she's the cause of a runway disaster that sends an eccentric fashion designer over the edge!! The series' professional pranksters Chance, Uncle Will and Dusty enlist Veronica and Kamil for their undercover skills to pull off an outrageous caper involving a runaway panda bear.
"A Fans Guide to Spider-Man: Homecoming" (7:30 p.m. ET)
As Spider-Man joins the Marvel Cinematic Universe for the first time in "Spider-Man: Homecoming," Tom Holland and Zendaya take fans inside the highly-anticipated movie to show us what is new, including exclusive never-before-seen footage. Prepare for an exciting behind-the-scenes look at this summer's biggest movie event when "A Fans Guide to Spider-Man: Homecoming " premieres.
Like Just Jared Jr. on FB