Wed, 31 May 2017 at 12:15 pm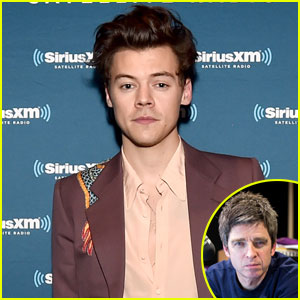 Harry Styles is getting some major criticism from famed Oasis singer Noel Gallagher.
He had some pretty harsh words about the former One Direction singer in an interview with Absolute Radio.
"You're not telling me Harry Styles is currently sat in his room somewhere writing a song," he said. "With any joy, he'll be surrounded by a lot of 17-year-old girls, do you know what I mean? F-cking getting coke blown up his assh-le, hopefully. But I can assure you, he doesn't got an acoustic guitar out trying to write a middle-eight for someone. You know what I mean?"
Just for the record – Harry is credited as a writer on all 10 tracks off his debut solo album.
"Because people of my age have let themselves go, you know, and they're kinda fat, balding idiots with fading talent, too," Noel continued. "They kind of sit in their garage and write sh*t like 'Sign Of The Times' for Harry Styles. Do you know what I mean? Which, quite frankly, my cat could've written it in about 10 minutes."
"I don't mind the song," he backtracked. "My wife was falling over herself. 'Have you heard Harry Styles' new song?! It's like Prince!' And I was like, 'I can f-cking assure you, without even hearing it, I can assure you it's not like Prince.'"
Meanwhile, Harry is focusing on the positive right now. He recently made a touching call to one of the victims of the Manchester bombing.
Like Just Jared Jr. on FB