Sun, 04 June 2017 at 6:33 pm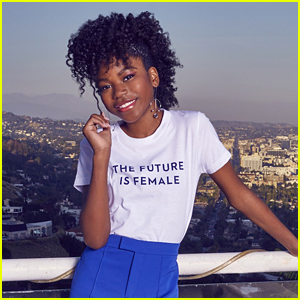 Riele Downs is many, many things — an amazing actress, a pretty cool girl and a stellar fashion designer.
In her interview with YSB Now, as part of The Girls of Summer feature, the Henry Danger actress opened up about her love for fashion.
"I was into fashion before I can even remember," she shared. "I have this folder of drawings that's literally from kindergarten. Eventually, I got this book from my teacher that had the outlines of the girls already in it so I could just draw on it."
Did you notice Riele at the 2017 Nickelodeon Kids' Choice Awards or the RDMAS? Of course you did. She designed both of her own dresses for those events.
To get started working on it, she got some advice from Henry Danger's wardrobe department.
"It was a difficult process, but I had fun," she says. "When I put it on, it was this spark of excitement, just knowing I created this and I was the one to design this."
We can't wait to see more of Riele's designs!
Like Just Jared Jr. on FB