Sun, 04 June 2017 at 2:30 pm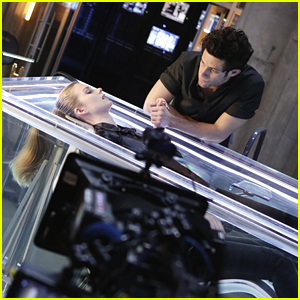 If you haven't ever watched Stitchers on Freeform, you best be starting that right now.
The Freeform series centers on Kirsten Clark, a highly intelligent woman, who has an aptitude for technology and works for a covert government agency. She's actually "stitched" into the memories of the dead, where she and her team investigate murders and decipher mysteries that otherwise would have gone to the grave.
With season three starting tomorrow (June 5th), you'll need to know that season two ended with an insane cliffhanger: Kirsten (Emma Ishta) was trapped in her own stitch memory while Cameron (Kyle Harris) was trying just about everything and anything he could to bring her back out of i.t
"We're still in the cliffhanger," Emma shares. "[Kirsten] is still stuck, so the big question is, 'how do we get her out of the stitch?'"
Kyle adds that the team is definitely still working to bring her back.
"Cameron has not left Kirsten's side from when we last saw him," he says. "He says, 'no matter how long it takes I will never leave you,' and we pick up and he is still staying true to his word right there holding her hand."
Get a full recap of the series below!
Like Just Jared Jr. on FB