Wed, 07 June 2017 at 11:17 am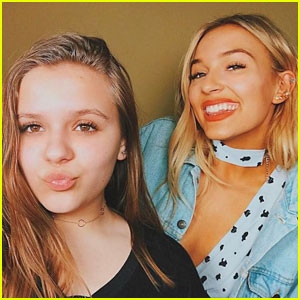 Lennon & Maisy have spent much of their respective childhoods on the show Nashville, so it's no surprise that the cast has become like a second family to them.
Yesterday (June 6), the cast surprised the girls with diplomas and a celebratory lunch in honor of the milestone, and it's totally sweet. Lennon Stella is graduating high school (they grow up so fast!) and Maisy Stella is graduating from middle school.
"So thankful for my set family," Maisy captioned the insta of the sisters posing with their diplomas. "They surprised me and len with a graduation lunch and i can't even believe how thoughtful and sweet !!!!!!!!!!!!!!! THANK YOU GUYS SO MUCH. i love you allllllllll SO MUCH. (and thank you mummy) they even made me a langhorne academy sweatshirt because that's the school i go to on the show!!!!! SO AMAZING. THANK YOU. THANK YOU. THANK YOU. (and a HUGE thank you to my MUMMM and teachers for thinking of this)."
How cute is that Langhorne Academy sweatshirt?
Congrats loves! And we can't wait to hear your sweet harmonies on Nashville until the end of time. (Maddie & Daphne forever.)
Like Just Jared Jr. on FB