Mon, 12 June 2017 at 11:42 am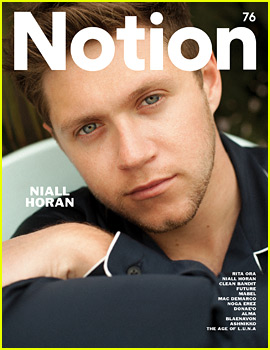 Niall Horan gets his close up on the cover of Notion magazine Issue 76, on newsstands today!
The 23-year-old entertainer spoke about dating, One Direction, and more with the mag. Here's what he had to share…
On never wanting to go solo: "There was never a point where I thought about [going solo]. I wasn't even planning on it at the start of last year, but then I just started writing songs because that's what I knew how to do, and then I was like, 'You know what? I like these songs; they're very me'. So I showed them to management, and here we are."
On dating: "I was thinking about this today actually. I've been so busy between studios. Landed the other day when I had a week vacation – landed at noon and went straight to a rehearsal room with my new band for 6 or 7 hours. The album was long days, so we were recording everything live full band. We're talking 11/12 hour days, everyday which is like work, studio, home, bed, eat, you know. [I have] no time for Tinder."
On his relationship with the rest of One Direction: "We're very supportive of each other, always texting and emailing. Harry was on SNL [Saturday Night Live] the other night texting, it's all very easy going with us – we don't feel a pressure between us… People think that we don't like each other, but we definitely do."
For more from Niall, visit Notion Magazine.
Like Just Jared Jr. on FB