Tue, 13 June 2017 at 4:01 pm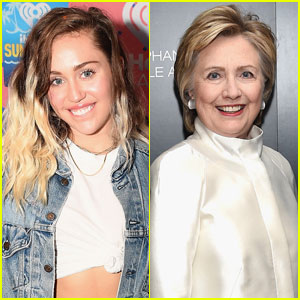 We know that Miley Cyrus' heartfelt new song, "Inspired," is in large part about her relationship with her dad, Billy Ray Cyrus (listen here) — but that isn't the only person who inspired her to write the uplifting track.
In an interview with Billboard, the 24-year-old pop-turned-country singer opened up about the writing process for "Inspired."
"It was my Hillary Clinton song," Miley said.
She then went on to talk about what the song meant to her and how the 2016 Presidential candidate influenced her writing.
"I wrote it actually maybe a week before I went and campaigned for her, and she sent me a letter about it," she explained. "I sent it to her the day after the election, I said, 'I wrote this song for you, and the reason I thought you would like it is because I always imagined you with your dad, when I wrote about me and my dad playing in the creek.' Because, you remember when at all the debates she would bring up her dad? Her dad obviously played a very impactful part in her life, and my dad played one in mine."
We already knew Miley supported Hillary (she campaigned for her ahead of the 2016 Election) but we had no idea she struck such a chord (literally) with her!
We're so glad Miley was inspired by Hillary and that such a beautiful song came out of their relationship!
Like Just Jared Jr. on FB