Mon, 19 June 2017 at 2:00 pm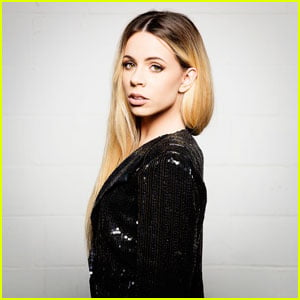 Get to know rising star Drew Ryn with these 10 fun facts!
The 20-year-old singer, who you may remember from The X Factor's first U.S. season, just dropped her latest single, a cover of "What A Feeling," which you can listen to below!
"'What a Feeling' has been a longtime coming," Drew told us. "It was the very first song I performed on live television. I am a huge fan of the original from the movie Flashdance, but I wanted to strip the song down into a beautiful ballad."
She added, "My fans have requested that I release a studio version since that performance six years ago and when I was contacted about releasing a cover single, I knew this was the perfect choice."
Here are 10 fun facts Drew shared with us:
1. I grew with a family of 5 in a very tiny 800 square foot house…with only one bathroom.
2. I have a thing for classic cars. My dad collects them. My dream vehicle is a 1950s-1960s classic truck.
3. If I didn't pursue music, I likely would have become a radio personality or reporter.
4. I spent more time with Justin Bieber than you saw on TV.
5. My guilty pleasure is Mexican food covered in cheese – lots of cheese.
6. If the Mexican food didn't make it clear, I'm a foodie. When I travel, I love to try exotic foods and post about them.
7. I love miniature pigs so much that even talking about them causes tears to well up in my eyes…and now I'm crying.
8. I moved to Nashville just over a year ago. It took me more than six months to completely move into my house because I travel so much.
9. I am shockingly good at yodeling. Found that out by accident in a studio to the surprise of my producers and team. (Don't worry, not changing my sound – that much).
10. I date my manager…whoops.
Like Just Jared Jr. on FB