Thu, 22 June 2017 at 3:00 pm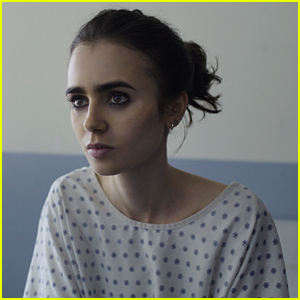 Netflix debuted the trailer for To the Bone this week and started a big conversation that we need to have — how the mainstream media portrays mental health and eating disorders.
Lily Collins, who stars in the film, took on the role after overcoming an ED herself.
"I knew that when it came time for this movie to come out, it would be impossible for me to talk about why I wanted to do the movie and why it's important without expressing my experiences with it," she told Nylon mag.
To The Bone doesn't even premiere until July 14th, but the trailer is already giving some triggers.
"Netflix's 'to the bone' is just a massive trigger to anyone with mental health problems or any form of eating disorder, it is not helpful," one Twitter user wrote about it.
Another was even thinking about the effect it would have on people who are still suffering: "beyond triggered from the trailer for To The Bone, dread to think what effect it'll have on sufferers who haven't recovered from their ED."
Click inside to read more about the triggers of To The Bone…
"I just saw the trailer for to the bone, and like I should definitely see the movie before making a full judgment, but it still feels…weird somehow?" a Tumbler user shared. "I support giving an honest representation of eating disorders, and I know that Lily Collins and the writer/director had anorexia, so that seems cool. But also just watching the trailer, some stuff still just feels so…off."
They added, "And maybe that's based on experience? I think it's good representation, and wants to approach this in a totally honest and exposed way, but I just still can't fully get behind it."
They have a point — triggers can be everywhere and with this sensitive subject, it's a conversation to have.
However, there are some who took the side of not judging a book by it's cover.
"Keep in mind that the film is written and directed by Marti Noxon who based the film on her own personal struggles with eating disorders and stars lily collins who has also been very public about her battles with eating disorders," one wrote.
"also the cast (including Keanu Reeves) have been raising awareness about eating disorders since early 2016 (when they began filming). of course you should steer clear of any potentially triggering content if you have an ed, I just wanted to point out that To The Bone has not been composed in the same circumstance as 13rw."
Watch the trailer below, at your own discretion:
Like Just Jared Jr. on FB