Sat, 01 July 2017 at 4:56 pm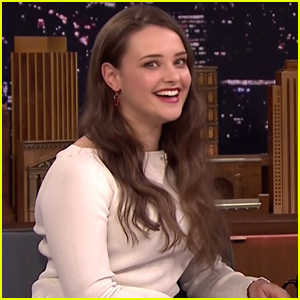 The moment we heard Selena Gomez gush over how perfect Katherine Langford was for the part of Hannah in 13 Reasons Why, we knew we'd love her just as much — and we did!
Now, we're falling in love with her all over again because she's just as much a sci-fi geek as we are!
In a recent profile piece in Marie Claire, Katherine opened up about her sci-fi love and just how big of a Trekkie she is.
She gushed, "I love Star Trek: Voyager! I'm rewatching the series right now."
"I love sci-fi and period pieces—it's fantasy. I can let myself dream a little bit," Katherine adds. "But also, I just really love science. I love knowing about how the world works."
She already knows was superpower she wants: "A third lung. The Klingon anatomy has a third lung. It would be supercool being able to run and literally never get tired. It's like Lady Gaga's Super Bowl performance—that kind of endurance!"
Katherine's family even has a boat named Voyager.
"My dad is a really keen fisherman, and when we got a boat, we named it Voyager and got T-shirts made with the Voyager logo," she boasts. "Whenever we go out, we wear those. OK—I sound like a total nerd!"
Like Just Jared Jr. on FB