Sun, 02 July 2017 at 4:30 pm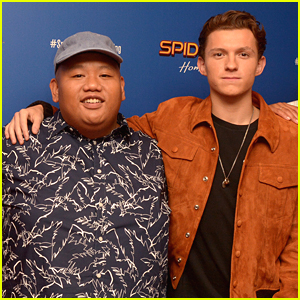 Jacob Batalon is about to become your favorite sidekick ever in Spider-Man: Homecoming.
The Hawaiian-born actor plays Ned Leeds, Peter Parker's best friend in the film, which is out NEXT Friday, July 7th.
In a recent interview, Jacob opened up about his audition for the film and actually remembers the exact date and time he got a part in the flick!
"So, I did a screen test with Tom [Holland] and Sarah Finn, the casting director who I love with all my heart," Jacob shared. "She was the person who said, 'Oh yeah, just wait two weeks and then we'll let you know either way.' And I was like, 'Yeah, sure. Great.'"
"Two weeks go by, you hear nothing," he added. "Another two weeks go by, you hear nothing. Basically, two-and-a-half months go by and I'm like, 'Wow, this is the most depressing life period of my life.'"
However, the waiting paid off.
Jacob continued, "Then I get a phone call, I'll tell you the whole date too, April 17, 2016, 10:47 PM at night. My manager at the time calls me up and he's like, 'Bro, they want you in the film. But wait, they don't know who you're gonna play yet'…I was just going crazy."
About a month later, the role of Ned Leeds was Jacob's. We're thinking that it was worth the wait.
Like Just Jared Jr. on FB