Wed, 05 July 2017 at 4:58 pm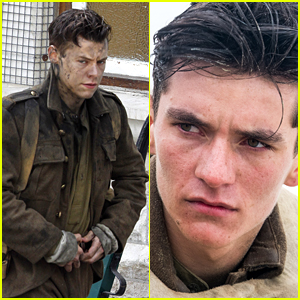 Harry Styles will make his big screen debut in Dunkirk this month, and that's a huge thing for anyone.
However, the singer and actor's co-stars don't want you to miss what the movie is actually about.
"He's great, he's a good actor and a lovely guy," co-star Fionn Whitehead told DigitalSpy in a new interview. "I think the hysteria – [perhaps] it should have been expected when you take a figure like that and give him a short back and sides and put him in a uniform."
Fionn and other cast members are just a little annoyed that Harry is getting all the attention, when the movie is more than just about his big screen debut.
It's about a World War II event that was a miracle — which is obvious as the battle's name known as "The Miracle of Dunkirk".
"The meaning has got lost somewhere along the way and people have stopped realising there's an amazing cast – including Harry – but there's, you know, the creme de la creme of actors," Fionn added. "I think the focus should not be Harry Styles doing a movie, it should be on the piece in general or his ability to act. And he's great."
Dunkirk is also Fionn's first film role as well.
Like Just Jared Jr. on FB