Fri, 07 July 2017 at 11:30 am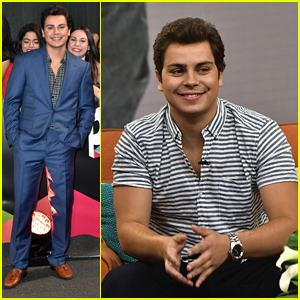 Jake T. Austin suits up sharp for the 2017 Premios Juventud event last night (July 6) in Miami, Fla.
Earlier that same day, Jake made an appearance on Despierta America to promote his upcoming animated film, The Emoji Movie.
In the flick, Jake voices Alex, the young boy whose phone emojis are going a bit bonkers.
"My character has never even spoken to a girl before," Jake admitted in a recent interview. "He's so nervous. He's so anxious to have a conversation with a girl that he forget what he's going to say. He ruins it the first time he goes up to her."
After Alex sends her possibly the weirdest emoji ever in a text message, it gets even weirder.
"Does he delete… does he get his phone fixed and erase the world of the Emojis, Textopolis?" Jake says. "Or does he work with these Emojis and find out that something inside of him is brewing, a personality he never knew existed."
Check out the newest trailer for the movie below, out on July 28th.
Like Just Jared Jr. on FB