Sun, 09 July 2017 at 1:43 pm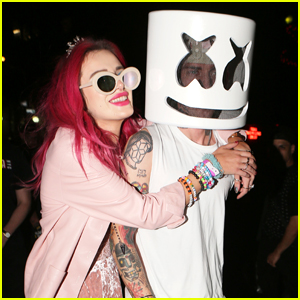 Bella Thorne hangs out with Blackbear (dressed as DJ Marshmallow) while heading to a concert in New York City's Irving Plaza over the weekend.
The actress hit up her pal's concert just after releasing her own new song, "Just Call", with Prince Fox.
JJJ spoke with Bella recently about her want to get back into music and why now was the perfect time.
"I've always been super uncomfortable with my voice and it just took me a long while to like music, like the music industry," Bella revealed to us, exclusively.
"I was never really great at it."
She adds that the want outweighed the fear about going back to music.
"I was like 'do I really want to do this?' And then I started getting back into music because my sister [Dani] and her boyfriend Justin, they're DJs – and they just got into that – so we were kind of all stepping in together around the same time with music."
Another thing that helped Bella gain some confidence was one of her ex-boyfriends.
"My ex sings and plays instruments and made me feel really comfortable about my voice and all of this together just kind of pushed me to get back in."
FYI: Bella is wearing Sunday Somewhere sunglasses.
Like Just Jared Jr. on FB