Sun, 09 July 2017 at 12:46 pm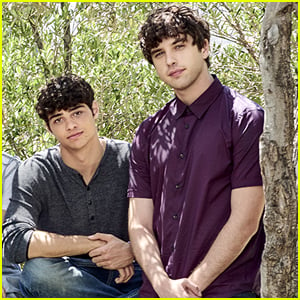 The Fosters is back in two days and JJJ can hardly wait.
While we're all anxious to see what actually happens with Callie (Maia Mitchell), we NEED to know how Brandon (David G. Lambert) and Jesus (Noah Centineo) are ever going to get along again.
"They're going to have their issues, for sure," EP Joanna Johnson told TVGuide about the brothers. "We're not just going to kiss and make up."
It will take some time for Brandon and Jesus to actually trust each other again, it looks like.
"They're going to go through a journey with each other of trying to regain trust," she adds. "Again, part of Jesus' TBI is that he doesn't see things completely logically and maybe can't really process things like someone without a brain injury."
And about Jesus' injury…it will still be a big issue that he'll have to deal with for a long time.
"We really wanted to be true to that so he doesn't just instantly get better," she says. "He's still struggling a lot. He's not back at school yet. He's trying to figure out what his future is. He still has trouble with these outbursts, emotionally and physically…This is something that is going to be a long-term recovery for him, and the family because it affects everyone."
The Fosters premieres on Tuesday, July 11th @ 8PM ET/PT on Freeform.
Like Just Jared Jr. on FB