Thu, 13 July 2017 at 12:00 pm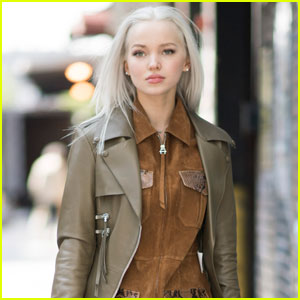 You may think every picture-perfect starlet grew up in the cool kids crowd, but Dove Cameron is proof that's just not the case.
The 21-year-old Descendants 2 star recently opened up to JJJ about being a self-described "weird kid," and how she dealt with a lot of bullying, before finding success and solace in her career.
"Yeah, I think I felt that my whole life. I was always really strange," Dove told JJJ. "I never had a crowd. You know how even the weird kids find a weird crowd? I was too weird for the weird kids. I'm serous. I look very conventional today, but I was…not, growing up."
"I was the kid that would come to school in costume every day, and I'd ask my mom to cut my hair like a boy. 'I'm going to fool them into thinking I'm a boy.' I would dress as like one thing for a month. I would wear fake piercings," she continued. "I would dress up as Johnny Depp every day. I was weird. I had no friends. But I loved it."
"I got really heavily bullied. I started to feel that around second grade. But it was because of the bullying. It wasn't because I had no friends," Dove said. "I was fine with being on my own all the time, but the bullying got really bad. So I stopped going to school. But then when I came back, I had sort of internalized that I had to be something. You start to feel the pain of that. Like, 'Something's wrong with me?' And I had to go through multiple cycles of 'I'm wrong, I'm wrong, I'm bad, I'm wrong.' Until I realized my locust of control was inner and not outer. And I didn't want to be their kind of right anyway? I know that's such a hacky phrase. But I found so much solace in the industry."
She added, "I even felt like I had to fit into the industry at first. There's a lot that goes into that whole thing. But I found a lot of solace in that I started being my singular self, unabashedly, and people luckily celebrated me for that, now, in my adulthood. But yeah, I think I dealt with it by going really hard into being myself until people were like, 'Oh, you're weird. But that's OK. I guess I can get with that.'
In case you missed it, read what Dove told us about her "dark" childhood and how she overcomes anxiety on a daily basis.
- Reporting by Sharon Tharp (@sharontharp)
Like Just Jared Jr. on FB