Mon, 17 July 2017 at 12:00 pm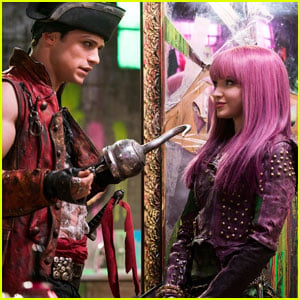 Dove Cameron is giving us a little backstory before the premiere of Descendants 2.
She and director Kenny Ortega, along with China Anne McClain and Thomas Doherty, decided on the reason behind Uma and Mal's rivalry – and Harry's very involved.
"They have a huge history. China's character Uma, and Mal, were sort of like Mal and Evie (Sofia Carson) when they were younger," Dove told us. "They were good friends growing up. Mal actually dated Harry Hook before dating Ben (Mitchell Hope). So that was each of their first loves, which is kind of funny. She was the baddest girl and he was the baddest guy. It was sort of like a Johnny [Depp] and Winona [Ryder] thing. They were madly in love."
"Some bad stuff went on with Uma and Mal. It was a big rivalry," she explained. "We never really decided what that was, but basically, Mal disowned Uma and was like, 'You can't hang with me. You're not good enough.' Condemning her. She was like, 'You'll never be as bad as me' and she kicked her out, and replaced her with Evie. So Uma has all this animosity toward her."
"And then, Mal broke Harry's heart," Dove said. "We also decided that they got secret hook tattoos, and Thomas and I would draw them under our gloves every day. We were so into the backstory (laughs). Kenny would come up to us and be like, 'Do you guys have the hook tattoos?' And we're like, 'Yeah, Kenny. Every day.' And he was like, 'OK, good. Good.' So funny (laughs). And when Mal broke Harry's heart, he joined Uma's gang. That's why he hates Mal so much. He's like a broken man because of that."
Descendants 2 airs July 21 on Disney Channel.
- Reporting by Sharon Tharp (@sharontharp)
Like Just Jared Jr. on FB