Mon, 17 July 2017 at 5:00 pm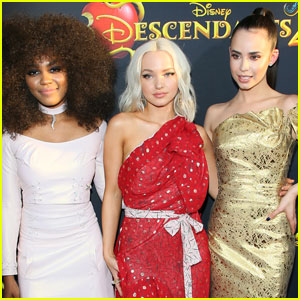 The cast of Descendants 2 is close, that's obvious. So when we recently sat down with Dove Cameron, Sofia Carson, and China Anne McClain, we asked them about each other!
Which trait would they steal from the other ladies if they could? Their answers are amazing and such #girlpower.
Dove
"Dove has the brightest energy ever. Everywhere she goes, she makes people laugh. Whether it's with her portable speaker that she carries around on set. When Dove was coming, you knew it because you would hear music from a mile away. Or when she's cracking jokes. She's just nice. She's the nicest person ever, all the time, and I love that about her." – China
"From Dove, as an actress, she's really in touch with her emotions. And it's a really beautiful thing to see how vulnerable she can be when it comes to acting." – Sofia
Sofia
"Sofia has this presence – and I always say this when she walks into a room – you know when Angelina Jolie walks into a room, how you would feel? It's like awesome, kind of intimidating a little bit, you're kind of scared. She has that powerful presence. And not for any sort of reason, she's just so confident and strong, and you can see that when she enters the room before she even says anything. That is a great trait. Anybody would want to steal that." – China
"Sofia's ability to care for herself. She's in bed by 9. Water, water water, no caffeine. Sleeps every chance she gets. And also her work ethic. She's very professional." – Dove
China
"From China, I would say her constant sense of happiness and humor. She's always happy. She walks into a room and lights it up." – Sofia
"I think I would take her relationship with her family." – Dove
Descendants 2 airs July 21 on Disney Channel.
- Reporting by Sharon Tharp @sharontharp
Like Just Jared Jr. on FB