Mon, 24 July 2017 at 11:22 am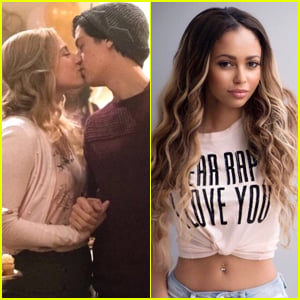 Bughead shippers, be on the lookout for Toni Topaz, the brand new character in Riverdale season two that's going to mess with your ship.
Vanessa Morgan has been tapped to play Toni, a bisexual student at Southside High and a member of the Southside Serpents.
"She's sort of Jughead's guide into the Serpent world," showrunner Roberto Aguirre-Sacasa shared with EW. "We jokingly say that she's got a lot of the same interests as Jughead, so it's almost like she's a female Jughead.
He adds, "She's trouble! I think she's trouble, getting Jughead into this gang. And I think she might be trouble for Bughead."
"Jughead is placed kind of in the middle of two worlds that are starting to collide and really erupt, and as the season [progresses], it's going to start forcing him to really pick a side," Cole Sprouse says. "Which is quite a dangerous space for him to be in because he's a very morally gray character."
And true Archie Comic fans don't have to worry, Toni will be bisexual and rocking her pink hair.
"That's something that's in the comic books and has been for a while, and we thought it would be really, really fun to have a bisexual character from the comics on the show," Roberto says. "So, it'll be trouble for a lot of the people on this panel."
Like Just Jared Jr. on FB