Thu, 27 July 2017 at 5:27 pm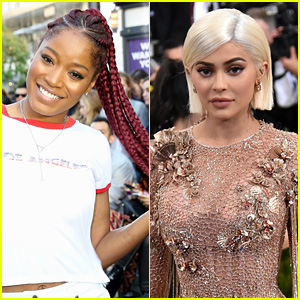 Keke Palmer is not too pleased with Kylie Jenner.
The Scream Queens actress believes the Life of Kylie star has caved into society's pressure to look a certain way, making it hard for people to be authentic.
PHOTOS: Check out the latest pics of Keke Palmer
"So often people feel like, you know what, I'm just going to beat them to the punch and either degrade myself or be so damn perfect they have nothing to say," Keke told Yahoo Beauty. "We've seen extremes of that. In the sense of the Kardashians, it's like, I'm going to show you so much perfect and be everything a woman should be or everything a man would like or love. And I'm going to be exactly that so you can't bully me anymore."
"Specifically in the situation with Kylie [Jenner], where you've had a young girl people have seen on television since she was a kid and they literally told her she was so ugly – the ugly person in the family," Keke continued. "She went and did apparently everything the world deems as beautiful. The even crazier part is that everybody loves her for it."
Click inside to hear what else Keke had to say…
"What I find interesting is that this is something that is being displayed to my generation – showing young girls, young guys that if you do everything that society wants you to be, not only will you be praised for it but you will make money for it," she added. "You can be profitable for not being who you truly are."
"That's the thing we really have to be careful of and why I'm so honest about everything I'm going through – whether that's sadness, happiness, depression, anger, boredom, whatever it may be," Keke said. "We all go through it. And I feel really grateful to be in the industry for as long as I've been and to have people who have been with me this long in my career and stand on a platform and say, 'It's all a gag!'"
To hear what Keke had to say to anyone appropriating black culture, head to Yahoo Beauty.
Like Just Jared Jr. on FB