Sun, 30 July 2017 at 3:50 pm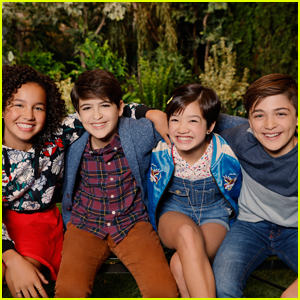 Peyton Elizabeth Lee just wrote the sweetest note to her Andi Mack co-stars!
The 13-year-old actress took to her Instagram to pen the heartfelt letter in honor of International Friendship Day.
"These young, beautiful, talented people are my best friends. But the phrase, 'best friends' does not even do it justice. They are my chosen family. I never thought I could feel such loyalty and love for a group of people that weren't my blood relatives," she began.
Peyton continued, "These people have taught me that family is not defined by the people that share the same blood with you, but the people that shape your soul for the better. These people have done that to me and I am changed forevermore. They are my shoulder to cry on. My hand to help me up when I fall. The majority of the time the reason I laugh is them. They are my everything."
"When we shoot Andi Mack, I don't have my blood family, but they are there for me. They understand where I've been. Understand where I want to go. I would fiercely protect them as they would for me. They have made such a beautiful and massive impact in my life and I barely remember what life was like without them. So thank you guys for showing me something I never knew existed. For unconditional love and support. For changing my life. I love you all more than I could ever put into words," Peyton concluded.
We love how close the whole cast is!
Like Just Jared Jr. on FB