Mon, 31 July 2017 at 1:30 pm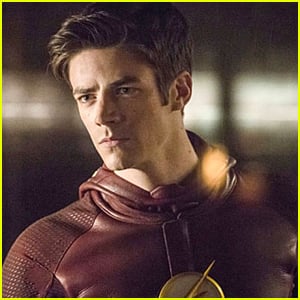 At the end of season three of The Flash, we saw Barry Allen ride into the sunset with the speed force…but exactly where will he be when season four gets here?
Grant Gustin opened up in a recent interview on Barry's whereabouts, how he's getting back to his friends and all about his state of mind.
"When we pick up he's been in there [the speed force for] six months so I think it's honestly been harder on Team Flash since they've had to pick up the pieces and carry on," Grant shares.
"The way I see it, time is kind of non-linear in the speed force. It's not really going to be the same experience of past times where we've seen people in his life embodying the speed force and kind of talking him through it.
"So, when he comes out it's like an awakening in some ways and understanding things he hasn't before. He's not really himself and it's kind of jarring."
Click inside to see what Grant says about WestAllen…
While Grant says Barry is really happy to be back with his friends, he's even happier to be back with Iris West, his fiancÚ.
"Iris was left heartbroken obviously, but she picked up and moved on as the leader of Team Flash while Barry was gone and ran things with Kid Flash out in the field," he shared.
"It's harder for her when Barry comes back to understand why he made that decision, to not take it personally that he left her behind, but Barry is going to let her go through that," Grant adds.
And their wedding? Definitely on his mind.
"He's ready to move on and they're looking forward to their wedding and I think it's going to be a fun and much happier season."
Like Just Jared Jr. on FB