Tue, 08 August 2017 at 2:42 pm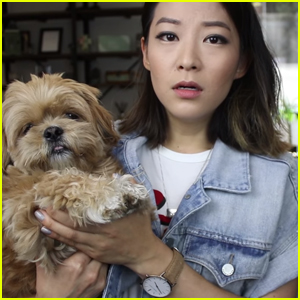 Arden Cho has just been killing it in her personal YouTube videos lately.
The former Teen Wolf star and singer has talked about the dating game and keeping her life private, and had the most honest reaction to 13 Reasons Why too — and now she's opening up another important conversation that we all need to have about racism.
In her Arden's latest vid, she opens up about the racism she's experienced and how she's always asked what she is, complete with assumptions about where she is actually from.
"Since I've filmed this video, I've been asked if I'm North or South Korean 3 times…" she wrote in the notes section. "I was also told yesterday that I am 100% Japanese, and that there's no way I'm Korean. Ugh… ignorant people!!"
Arden addresses the racism she faced growing up, too.
"I've grown up with racism my entire life," she shared. "I've been bullied, sent to the hospital, beat up, I've been called a Chink and a Gook, every single racial slur an Asian person can be called, I've been called it."
This is an important conversation we all need to have. Don't assume you know where a person comes from just by the way they look…in fact, don't assume anything. If you want to know more about that person's heritage, ask nicely. Open a conversation about where you come from first.
Check out Arden's full video below:
Like Just Jared Jr. on FB