Wed, 09 August 2017 at 9:00 am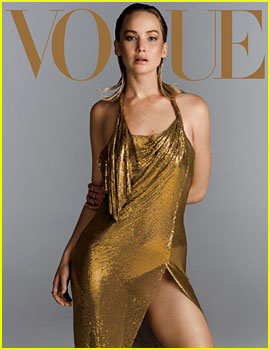 Jennifer Lawrence is on four different covers of Vogue's September 2017 issue!
The 26-year-old Oscar winner had so much to share with the readers – here's everything…
On why she won't always take selfies with fans: "I'm happy to meet people, give autographs, shake hands, and say 'Thank you.' I wouldn't have a job if people weren't going to see my movies. It's just . . . if I'm on an airplane and I have no makeup on, I don't want to take a selfie that's going to end up on E!"
On cracking a rib while filming mother!, and her Kardashian tent on the set: "I ended up getting on oxygen. I have oxygen tubes in my nostrils, and Darren's like, 'It was out of focus; we've got to do it again.' And I was just like, 'Go fuck yourself.' [The Kardashian tent on set] was a tent that had pictures of the Kardashians and Keeping Up with the Kardashians playing on a loopŚand gumballs. My happy place."
On starting to date Darren Aronofsky after filming mother!: "We had energy. I had energy for him. I don't know how he felt about me. I normally don't like Harvard people, because they can't go two minutes without mentioning that they went to Harvard. He's not like that..For the past year, I've been dealing with him as just a human. I've been in relationships before where I am just confused. And I'm never confused with him."
For more from Jennifer, visit Vogue.com.
Like Just Jared Jr. on FB