Sat, 12 August 2017 at 9:49 pm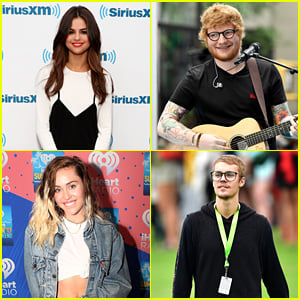 The 2017 Teen Choice Awards are upon us, and we can't believe how many talented celebs are up against each other!
While there are tons of categories that we're already biting our nails over, the nominees for Choice Summer Song have us stumped.
The tracks in the running are "Bad Liar" by Selena Gomez, "Castle On The Hill" by Ed Sheeran, "Malibu" by Miley Cyrus, "Despacito (Remix)" by Luis Fonsi & Daddy Yankee (feat. Justin Bieber), "Stay" by Zedd & Alessia Cara, and "That's What I Like" by Bruno Mars.
See, bet you can't pick just one fave!
What better way to refresh your memory than by listening to all of the songs again, right now? Let's get started.
"Bad Liar" – Selena Gomez
"Bad Liar" reunites Selena with her hit songwriters Justin Tranter and Julia Michaels, who worked on the majority of the songs included on her latest album Revival. It's catchy, addictive, and it's definitely been stuck in our heads all summer. (Plus, the fact that Selena plays all of the characters in a queer love triangle in the video makes it even cooler.)
Click inside to watch the rest of the videos…
"Castle On The Hill" – Ed Sheeran
"Castle on the Hill" makes you nostalgic for your hometown every time you listen to it. The coming-of-age video was shot in Ed's hometown of Framlingham in Suffolk, England, and it's the perfect accompaniment to the beautifully honest storytelling of the song, which was co-produced by Ed himself.
"Malibu" – Miley Cyrus
"Malibu" paved the road for Miley's fresh new sound this year. The song is a warm and touching pop-rock tune dedicated to the her fiance Liam Hemsworth, and it gives us all the feels.
All. The. Feels.
"Despacito (Remix)" – Luis Fonsi & Daddy Yankee (feat. Justin Bieber)
Ah, "Despacito." You might have heard of it. Fans finally got hear Justin sing in Spanish when he joined forces with Latin music superstars Luis Fonsi and Daddy Yankee for the new version of their hit single, and it was better than we could have ever imagined.
"Stay" – Zedd & Alessia Cara
Zedd and Alessia's hit collaboration "Stay" landed in the top spots of all kinds of music charts this year because the two artists complement each other so perfectly.
"I think this song is right in the middle between where Alessia is musically and where I am and that's what's so exciting about it," Zedd has stated. "I've been trying to knock down barriers around music genres and this is another step for me to walk towards a musical future where I can create any genre I want without people putting me in a box."
Alessia added, "It still feels like me, just an elevated pop sound. I don't know that I would be in this bold on my own stuff so it's cool to try these things with collaborators."
"That's What I Like" – Bruno Mars
"I got a condo in Manhattan…"
Don't pretend like you don't sing along to every word of Bruno's "That's What I Like" every time you hear it. Also don't pretend like you don't stop whatever you're doing, get up, and dance like a crazy person. It's just that infectious.
WHO DO YOU THINK will take home the surfboard?
Check out the full list of 2017 Teen Choice Awards nominees here, and tune in tomorrow (August 13) at 8PM ET/PT on Fox! Just Jared Jr. will be live-blogging the show as well.
Like Just Jared Jr. on FB