Sat, 19 August 2017 at 4:29 pm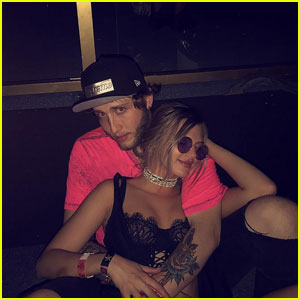 FaZe Banks and his girlfriend Alissa Violet are shedding more light on the drama involving Jake Paul, whom Alissa used to date.
Jake lost upwards of 60,000 subscribers this week after he accused FaZe of assaulting his assistant Meg at a nightclub in LA.
FaZe and Alissa posted a video response on Friday (August 18), maintaining FaZe's innocence and claiming that Jake mistreated Alissa.
"I'm not surprised Logan is supporting his brother through this, any good brother would do that," FaZe tweeted on Saturday. "I'd do that. I don't knock him for it."
"But facts are facts and the things they said about me yesterday are not ok," he wrote, adding, "There were 2 security guards at our table the entire night and the club was PACKED! Use your brain. If the situation happened as they (c) described don't you think I would have been kicked out? Jumped on by every guy in there? Recorded by someone? Think about it."
"This is what jake paul is turning these kids into," Alissa captioned a video of a group of Jake's fans, which you can watch below. "So sad and disrespectful. 'Dab on them haters'."
Check out Jake's side of the story here.
Click inside to see the rest of the tweets…
Like Just Jared Jr. on FB