Mon, 21 August 2017 at 4:30 pm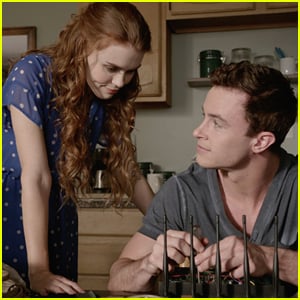 Once upon a time on Teen Wolf, it looked like Lydia and Deputy Parrish were headed towards a relationship — but it just didn't happen.
If you're like us, you're probably asking why in all sorts of context. Why was it dropped? Why was it even teased?
Ryan Kelley, who plays Parrish, opened up about the could've been relationship with TVLine after the latest episode — and it sounds like even he's kind of disappointed it didn't happen.
"They definitely teased you with it, then it didn't happen. But whatever happened or didn't, and whatever people were hoping for, Parrish did have a connection with Lydia – and vice versa," he says. "They're both people who had recently discovered that they're supernatural, so they went through the same thing. Parrish is a little older, but Lydia is wise beyond her years, so they clicked. They definitely had a friendship, and Parrish wanted something more, but it wasn't his place to do anything."
Lydia, played by Holland Roden, went on to finally be with Stiles after many, many seasons.
Ryan adds that because of the timing "it didn't necessarily work out to the advantage of them as a couple" and that he's actually a bigger fan of Stydia than he is of Marrish.
"Personally, I'm sad that Lydia and Parrish didn't get to explore their relationship more," he reveals. "But as a fan, I totally get it. It didn't need to happen. Last season was an amazing storyline, and it couldn't have happened if Lydia had been with Parrish."
TELL JJJ: Were you a Marrish fan?
Like Just Jared Jr. on FB