Mon, 11 September 2017 at 3:30 pm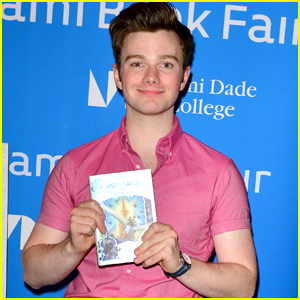 Anyone else still trying to avoid the last page of Chris Colfer's "The Land of Stories: Worlds Collide" so the series won't ever, ever end? Us, too.
The author recently spoke with CBC's Q podcast, and kind of feels the same way as we do about saying goodbye.
"I always dreamt of what would happen after the last page of the first book, you know, life beyond that [for Alex and Connor]," Chris muses. "I did not sign up for these books thinking there would be six of them."
"Just the idea of doing one book…the longest thing I had ever written was a two-page essay when I was in high school. It was really daunting."
But before he knew it, there were two books, then three.
"It wasn't until the first one did well that I started thinking that I can do another, and then two after that…After the third one, I was so invested in all the characters that I could not say goodbye," Chris shared.
However, now that he's at the sixth and final book, he's having a hard time saying goodbye.
"I've never been a parent to anything but a golden retriever and a tabby cat, but I want to say it's kind of like parenting where you are writing and you start off in the beginning, maybe you're not so good and you make mistakes," Chris says. "But by the time you get it, the kids are all grown up."
"That's kind of how it feels with the books."
Like Just Jared Jr. on FB