Tue, 12 September 2017 at 3:18 pm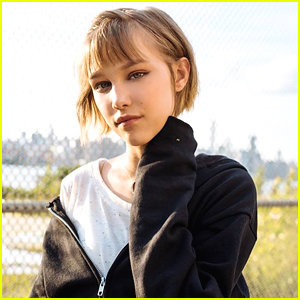 Grace VanderWaal makes a powerful point in a raw new Instagram post.
The 13-year-old "Beautiful Thing" singer shared two selfies of herself. In the first, she is totally makeup-free, and in the second she is flaunting a bold lip, mascara, and a full face of makeup.
"We're all beautiful and human," she writes.
"I love myself in the first photo and love myself in the second. I cringe a little whenever I post a photo of me with darker eyeliner or something different and I see comments saying 'I love you without the makeup!' Because no one on the internet has actually seen me without a stitch of makeup on."
"What they mean is 'I love you with your natural makeup on!'" she continues. "I'm just like you. I get pimples and acne on my face, I have tired eyes in the morning, I definitely have my fair share of awkward moments. Love yourself. it's a hard thing to do, but know that all those girls you wish you looked like, probably look just like you…"
Grace is totally right. What we don't take into account when following our favorite celebs is their team of make-up artists and stylists who keep them looking perfect at all costs.
See her selfies below!
Like Just Jared Jr. on FB