Fri, 15 September 2017 at 7:36 pm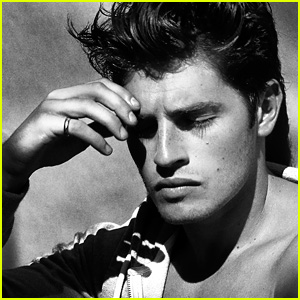 Gregg Sulkin strikes a thoughtful pose in his latest shoot for our online magazine RAW.
Here's what the Faking It actor had to say during his interview:
On first wanting to become an actor: "I never wanted to be an actor. I just wanted to play football (soccer), and I just never really took an interest in acting and film. I never took a passion in it until I was about 9 years old and I dressed up as a girl in a school play. (laughs) And then I put socks down my top or a very tight skirt and at the end of the evening, my mum is like, 'Oh, you're actually very good!' I didn't think anything of it. A couple of years later, my mum told me to go to an audition, and I didn't want to go, but part of me always thought to myself, 'A few years ago, that was so fun. I loved that show. I loved doing that one performance.' And so it was that school play that was the time when I actually caught the acting bug, and I landed my first professional job in England on a movie called Sixty Six."
On his favorite things to do in his free time: "I love writing poetry. They're on my phone, probably. And I started writing some songs too? I don't know why, no one's ever heard them (laughs). I don't know if they're any good. But I would say I've written probably about 25 poems this year. I love playing football, I love anything kind of fitness related, I love getting away, I love being around nature, I love being around water."
Gregg also revealed that he wants as many kids as he can afford, offered advice to those going through tough situations, and more! Head to RawPages.com to hear what he had to say.
Watch Gregg hilariously take on the Word Play challenge below.

Gregg Sulkin for RAW's Word Play
Check out more photos (including a shirtless one) from Gregg's RAW shoot in our gallery…
Like Just Jared Jr. on FB