Tue, 19 September 2017 at 1:51 pm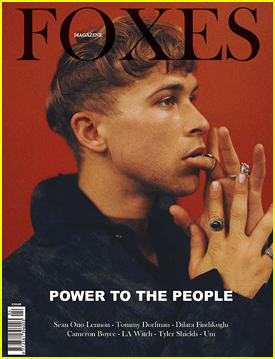 Tommy Dorfman is opening up about 13 Reasons Why in the brand new issue of Foxes magazine — at least a little bit.
Shot by Gabriela Celeste and written by Heather Seidler, the actor dished about the added responsibility of the cast, now that they're in season two and all eyes are on them. It's a much different feel on set than it was with season one.
"With the second season and the amount of attention it's received and its fan base– you feel a certain responsibility," Tommy says. "In just living my life, there's a responsibility to be true to myself, to be a responsible human. You want to do your best."
He adds, "I think it's on us as cast members — particularly myself — to be inspirational in a way, to be there for them [the young fans], and to not make silly mistakes publicly. I feel that sort of pressure. There is that feeling that there's the element of having a microscope on us."
Tommy also revealed that they're halfway done with filming the next season, which will center on the aftermath of Hannah Baker's suicide and focus in on Jessica's rape.
"I'm excited about what we're working on, there's more unexpected things," he adds. "It's been really great to share this with the cast, it's a terrifying and exciting experience and we are all learning and growing together, constantly communicating."
13 Reasons Why season one is streaming on Netflix now.
Like Just Jared Jr. on FB