Thu, 21 September 2017 at 12:06 pm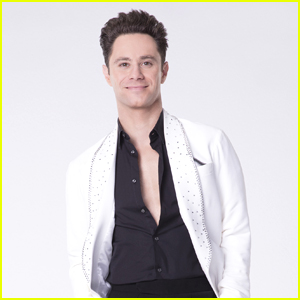 We were all quite disappointed when we didn't see or hear Sasha Farber's name on the pro list for Dancing With The Stars' season 25.
Instead, the Russian-Australian dancer returned to the troupe, and he admits that it was hard on him, as well as the producers, too.
"The show changes. They always bring different people in," Sasha shared with ET. "And it's always — it's a height issue for me, too. Everyone's pretty tall [this season], not going to lie."
"It was one of those things where they just couldn't really do much about it and I totally understand," he added about the producers telling him about his status this season. "It's a business thing. I'm still proud of the family and we're going on tour and it's good. It's good to be in the ballroom."
However, while it was a bit weird this week for Sasha, he's still 100% thankful to be on the show.
"It was a little bit weird to be in the ballroom [this week] and not getting to compete," he says. "The best part of [the show] is doing the creative aspect of it. Getting someone who has never danced before and transforming them into this superstar, and they become a true dancer with the knowledge that you give them…but I mean, I'm still there and I get to perform.
Sasha continues, "Once you're in the Dancing With the Stars family, you're in the family. And it really is a family. All the pros love each other, all the celebs become amazing friends."
Like Just Jared Jr. on FB