Tue, 26 September 2017 at 11:00 am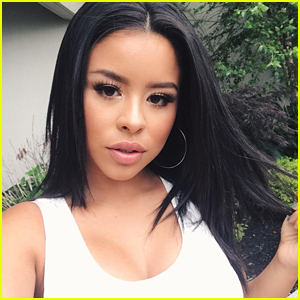 Cierra Ramirez just clapped back at everyone who had a problem with her latest Instagram, and for good reason.
After posting a cute shot with her dogs, with the caption, "You can't buy happiness, but you can buy English bulldogs", a ton of so-called fans had a lot to say about it.
"Everyone's got their tinsel in a tangle on my last post, commenting 'Oh my God Cierra, adopt not shop' 'You need to be a voice'," Cierra sounded off in her Instagram Stories later on.
She continues, "I understand the career that I chose. I love everything about it. I love that I'm able to have a voice and a platform for awareness, but that being said, and I mean this with all do respect: just because I'm an actress, doesn't mean I have to be the voice for every cause."
"People are quick to assume and point fingers but at the end of the day, it was just a caption," she says. "I thought it was cute quote. You don't know anything about how I got those dogs."
Cierra went on to explain that one of her bulldogs was a rescue, and another she got from a friend whose dog had puppies. "So, I rescued it. Even if I did purchase one from a pet shop, it's my decision."
While we're all for the 'adopt don't shop' motto, we all have to realize that getting a puppy from anywhere means rescuing it from what could've been a miserable life.
"Everyone is going to have different opinions and you're entitled to your own," Cierra added. "I have my feelings on things and the way I look at it, every dog needs a home. So who cares the way you got one?"
"Just remember that everyone has an opinion and not everyone is going to agree with you. [It] doesn't make either one of you right or wrong. Just don't push your opinion onto someone else to make them feel bad."
Amen, Cierra!
Like Just Jared Jr. on FB