Wed, 27 September 2017 at 3:12 pm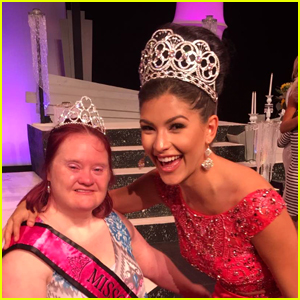 Miss Teen USA Sophia Dominguez Heithoff got the opportunity to meet the reigning Miss Amazing Sr. this past week!
The University of Kansas City student and reigning title holder headed back to St. Louis for the Miss Missouri USA and Teen USA pageant activities and got to meet Stephanee Corcoran backstage at the event.
Speaking with JJJ earlier, Sophia opened up about hoping to advocate for people with developmental disabilities, specifically Down's syndrome — which Stephanee has.
"My aunt Joanne is in her 40s and she has Down's syndrome. I've grown up alongside her and my mom is her legal guardian, so she is essentially like a sister to me," Sophia told us. "I've seen her through all stages of her life and the struggles that she has had."
"I know that my aunt has a supportive family, but there a lot out there who don't and they have disabilities like Down's syndrome. When you lack that support from family it's hard to have a high quality of life," she continues.
"I really have taken an initiative to try and help people with disabilities and have researched a lot of issues, which a lot were in Kansas City and have worked with a lot of different agencies who provide care for them and given this research and talked to legislators in Missouri about how we can help and what issues these people are facing and what policies we can create to further increase their quality of life."
It's one of the top things on Sophia's to-do list while she's Miss Teen USA this year.
"I'm really looking forward to really making a difference and giving back to a community, which has given so much to me," she added. "A lot of life lessons that I've learned have been from by aunt Joanne and I think that everyone should be able to experience that some time in their life."
Like Just Jared Jr. on FB