Fri, 29 September 2017 at 4:02 pm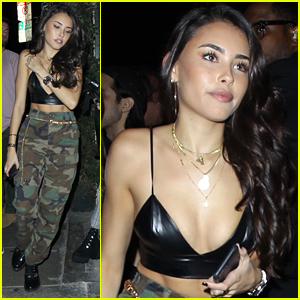 Madison Beer heads out to dinner with a few friends at Petite Taqueria in Los Angeles on Thursday night (September 28).
The 18-year-old "Dead" singer recently opened up to our online magazine RAW about once getting her tongue stuck to ice — just like Ralphie in A Christmas Story!
"I was like five or six, and I was left home alone with my nanny and my parents were out to eat dinner," Madison recalls. "I [had] watched A Christmas Story and there's a scene where the kid sticks his tongue to the pole and they can't get it off, and for whatever possessed me to think, 'Oh my God, I should do that.'"
She adds, "It was just a little ice box, it was freezing, I went and stuck my tongue to it–like to the point where I literally couldn't get it off. And I started screaming for the housekeeper."
"She came upstairs and she thought that I got electrocuted. (laughs) I don't know why she thought I got electrocuted, and she grabbed me and pulled me off, and I'm not joking, it's disgusting. Like, layers of my tongue came off and I was gushing blood, so much blood that it was insane and it was so bad."
Obviously, this is a don't try this at home story.
Like Just Jared Jr. on FB