Sun, 01 October 2017 at 2:21 pm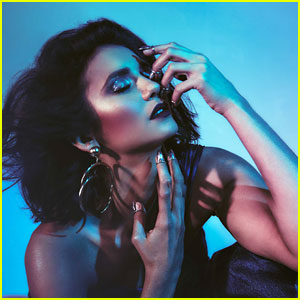 Nina Dobrev wears silver nail tips for a photo in the latest Rogue Magazine Print Issue No. 7!
The 28-year-old actress takes the cover for the issue and dished about her upcoming film roles, leaving The Vampire Diaries, and more.
On getting into character: "Everyone has a process and I don't have just one thing that works for me. I have a very active imagination so I can get myself to a point of horrible distress if I imagine something enough. If I can think it, I can believe it. Which is one of the reasons why things in my life have happened how they have. They've manifested from my thoughts and emotions."
On her upcoming film Lucky Day: "Of all the roles I've done so far it's the biggest departure I've had to tackle, because I have to speak French and have an accent. By the time this comes out I think my hair will be cut shorter. I'm excited about that."
On leaving The Vampire Diaries before the show ended: "I've always wanted to take big risks. I started Vampire Diaries when I was 20, and I was playing a young teenage girl. I also played Katherine, this ancient vixen who was manipulative and crazy. Then I grew into myself as a woman– I found that part of myself while playing that role– I grew with the show and I wanted to continue to grow outside of it. Mentally, it was a crazy time. I was 27 when I left the show, I was ready to do something different. I wanted to prove everyone wrong who said I would play this one role my whole life or be stuck playing younger roles."
Rogue Magazine Issue No. 7 is on newsstands now, and you can order it here!
Like Just Jared Jr. on FB