Fri, 06 October 2017 at 1:15 pm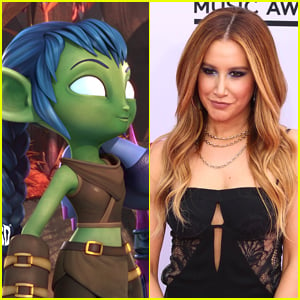 Skylanders Academy is back on Netflix and we've got the scoop straight from Stealth Elf herself, Ashley Tisdale.
The upcoming season finds the crew are seeking answers from the past and find out just who they are. Spyro begins a search for information about his ancestors in order to harness and understand his special powers.
Meanwhile, Kaos' quest to bring evil rule to the Skylands realms accidentally unleashes a villain more powerful than anything Kaos or the Skylander warriors have ever faced.
"All I can say is that fans are going to be really surprised by some new faces that Stealth Elf meets," Ashley tells us. "Let's just say that she may not be the only ninja in the Skylands."
Ashley also opened up about the new season, what she loves the most about Stealth Elf, and more. Check it:
On the new season: "This season on Skylanders there is a twist that I don't think anyone knows is coming. There's a lot of action and adventure, as always. We also introduce some new female characters this season like Cynder and Sprocket, so Stealth Elf has some new friends to join her."
On Stealth Elf: "I love that Stealth Elf is a bad ass. She is strong, she has ninja-like skills, and she is female.
On voicing the character: "The best thing about voicing stealth Elf is that I get to use a different, lower register voice. In animation, I usually have to play WAY younger than I am and I have to pitch my voice super high. Since Stealth Elf is so strong, I get to have a strong take on it."
Skylanders Academy is out on Netflix NOW! Check out a sneak peek below!
Like Just Jared Jr. on FB