Wed, 11 October 2017 at 10:45 am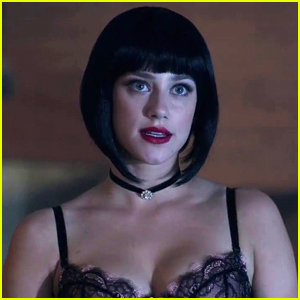 Dark Betty was one of the major moments of Riverdale's first season…and she's going to come back in season two, just in a different way.
Lili Reinhart told Teen Vogue that Dark Betty will indeed return.
"Season two becomes a boiling-over point for her where she kind of lets go and lets the darkness come out," Lili shares. "She lets that dark side of her live a little bit, and come to the surface and stay there."
"It's not just a moment in a hot tub. It's something much more intense and much more real than that."
The Betty Cooper-portrayer also touched on what "Dark Betty" truly meant to her and how it relates to her own mental health.
"It's more than just a black wig. It's Betty's internal darkness coming to light," Lili says. "Her internal struggles and her anxieties and her demons are coming out, as much as she tries on a daily basis to push them down and ignore them – which is something she does through digging her nails in her hands."
Click inside to read more from Lili…
Speaking from experience, Lili says she'd want Betty to get the same treatment she did in therapy.
"The piece of advice that would be most vital to Betty, is that she needs to seek help," she says. "She's used to dealing with so much stress, and other-worldly scenarios that you wouldn't see for a normal teenager on a daily basis. So, it's a little hard to kind of put into real life circumstances."
Lili continues, "But she's very private about her dark side, and doesn't want to talk about it, or acknowledge it necessarily. You saw her acknowledge it with Jughead in season one when she shows him the scars on her hand, but that was a very rare moment for her. And it did bring her some relief."
"So, I would hope that Betty would find a way to communicate her mental struggles to Jughead, or to Archie, or to her mom, in a way that would help her ease her own mind. And, maybe go to therapy."
Lili adds, "Find an outlet that will help her, so she isn't digging her nails into her hands and she isn't keeping all this anxiety bottled up. She needs to have a way to work through it. She's young and doesn't know how to work through her own mental illness. So, it's just a matter of talking about it."
Like Just Jared Jr. on FB