Wed, 11 October 2017 at 12:03 pm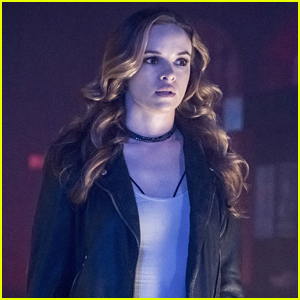 We found out just why Danielle Panabaker couldn't tell us much about Caitlin Snow or Killer Frost — it's because she's both!
Revealed on the season premiere of The Flash, Caitlin appears to be back to normal, however, she's actually both Caitlin AND Killer Frost in one.
She only turns back into Killer Frost when she's threatened, and her white locks and icy eyes come back; before Caitlin takes control again.
"She's trying to deal with things herself," Danielle shared with EW later on. "As a doctor, I think it appeals to her to try to understand and try to get a handle on what's going on, and she is not as quick to reach out to members of Team Flash for support as she has been with different things in the past."
And that's not all Caitlin/Killer Frost has been up to…she's actually working for Amunet Black (Katee Sackhoff) aka Blacksmith, the badass boss of an underground black market for supervillains.
"Caitlin is struggling and attempting to separate herself from Amunet," she adds. "Obviously Killer Frost is an incredible tool and an incredible ally to have. She's very powerful, so I don't think Amunet wants to let her go."
We can't wait to see more of Caitlin AND Killer Frost on The Flash.
Like Just Jared Jr. on FB