Tue, 17 October 2017 at 11:24 am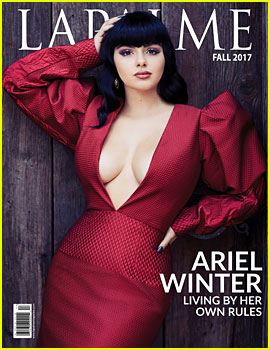 Ariel Winter looks stunning on the cover of LaPalme Magazine's Fall 2017 issue, which is out now! The photo shoot was shot by photographer Mike Rosenthal and styled by creative director Derek Warburton.
Here's what the 19-year-old actress had to say:
On her ambitions beyond acting: "My goal is actually to get my law degree. I?'ve always wanted to be a lawyer, and while I love acting and will probably do it for the rest of my days, I definitely think that it?s important for me to go to school and do something I?m passionate about…I've worked with many lawyers throughout my life, and many types of lawyers and they've helped me out a lot. I have knowledge in that field and I might be able to help somebody else out, that is my goal and reason for it."
On negative press for her fashion: "I get criticized in the press everyday for the things I do. Other girls will wear the exact same things I wear, and they'll get 'so and so looks cute in a crop-top on her day out' and I'll get 'Ariel bares all in a skimpy outfit, yet again,' and it will be me wearing the same thing as another person who just got praised, and I got cut down. The thing we all have to remember is the only person you have to please is yourself. If you feel good in an outfit, and you feel good with the way with you look, then that is all that matters and you should rock it and feel happy about it."
On reading stories about herself: "I hate reading stories about myself and that's why I don't. Every time it pops up on my phone or someone sends me something I'm like 'ugh that sucks.' At the end of the day you have remember 'You know what, I feel good and that's all that matters, and other people can go buzz off.'"
For more from Ariel, visit LaPalmeMagazine.com.
Like Just Jared Jr. on FB