Sat, 21 October 2017 at 3:58 pm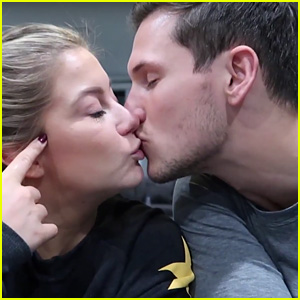 Shawn Johnson has revealed that she and her husband Andrew East suffered a miscarriage shortly after learning she was pregnant.
The Olympic gold medalist and the football player shared their journey with fans in a heartbreaking but optimistic YouTube video on Saturday (October 21).
"We feel like a lot of people go through this, so we want to share it," Shawn explains.
The video details everything from the excitement surrounding the unexpected positive pregnancy tests, to announcing the news to Andrew via a pair of Converse baby sneakers, to the doctor's visit after Shawn experienced some bleeding.
"The past 48 hours have been some of the happiest, scariest, and saddest times of my life," Shawn captioned the video. "My husband Andrew and I found out that we were unexpectedly pregnant, only to find out hours later some tragic news. I have been crying more than I ever have, but am still optimistic for what is next."
"So, it's been a roller coaster of a few days," Shawn says. "We just got back from the doctor and I'm no longer pregnant. Somehow, I lost the pregnancy already. It sucks. It's definitely no fun, guys … and having a doctor confirm that we miscarried doesn't feel good. I've cried enough today, I don't need to cry anymore."
"We'll use them again, of course," she adds about the sneakers.
Watch below.

pregnancy + heartbreak | Shawn Johnson + Andrew East
Like Just Jared Jr. on FB