Thu, 02 November 2017 at 12:58 pm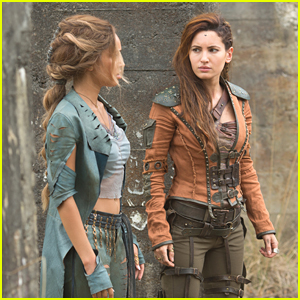 There aren't that many shows where you really do see a positive, and still standing LGBTQ relationship at the moment — but The Shannara Chronicles is doing it.
Star Ivana Baquero, who plays Eretria on the Spike series, calls herself one of the lucky ones to be able to be a part of the conversation.
"I honestly think it's so awesome," she shared in a recent interview with TV Junkies. "I had so many people approach me in Season 1, in fact, about the Amberle and Eretria relationship, and be so passionate about it, and tell me how they felt represented, and how there's not much of it on TV."
Ivana says that Eretria's relationship with Lyria actually came as a surprise to her for season two.
"Season 2 isn't based on the books, it's the gap between the second and third books," she reminded fans. "When I found out she had this relationship I felt so lucky to be able to portray that."
Ivana continues, "People may like it more or less, or they may feel more or less connected to the story, but we truly did it with so much love, and we hope that they like it."
"…The show has other things like many more diverse characters, and amazing female characters. To be in a show that has all those things is so unique and it makes me want for it to have a third season so, so bad, because I feel it covers so many things, and so many people can feel connected to it. I feel so, so lucky."
The Shannara Chronicles airs Wednesdays on Spike.
Like Just Jared Jr. on FB