Mon, 06 November 2017 at 2:53 pm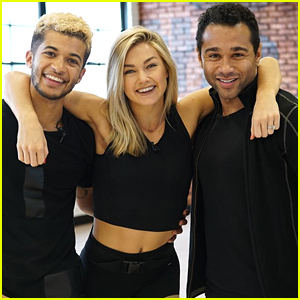 Lindsay Arnold possibly had her arms full this past week with not only teaching two dances to Jordan Fisher, but she also had to add in another dancer !
The Dancing With The Stars pro opened up in her exclusive blog for JJJ about her time management with both Jordan and Corbin Bleu this week.
"We have a lot this week…The way I like to make it work is splitting the time equally between both dances and make sure that both Jordan and Corbin feel equally as good about their performance," she says. "I don't ever want it to be like 'Oh, this one is good' and then 'This one is eh'."
Lindsay adds, "We're going to have to put the same amount of time into each of the dances and also, we don't always have Corbin in our rehearsal and it's important that any time we get with him, we are taking advantage of that. He and Jordan have to dance in sync as well, and a lot of that's going to be matching their movements."
"For me, I've never danced with Corbin either…I've seen him dance but it's different when you're doing it in real life. I too, have to learn the way he moves best and try to match those guys together and find moves that they both look great doing."
For their trio dance, Lindsay, Jordan and Corbin will be performing a salsa — and we can't wait to see it!
Check back with JJJ later tonight for all the performances!
READ MORE:
Lindsay Arnold Dishes On Working With Jordan Fisher AND Corbin Bleu This Week
Lindsay Arnold Researched Corbin Bleu's Old Dances
Like Just Jared Jr. on FB