Wed, 08 November 2017 at 3:21 pm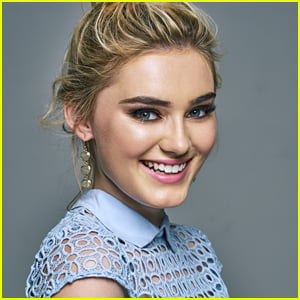 Meg Donnelly is about to be your new girl crush and for a really good reason.
But, before we get into that (hint: it involves knowing all the words to all the musicals ever), we have to intro her with 10 Fun Facts!
Meg currently stars in ABC's American Housewife and will be singing and dancing on your TV screens in Disney Channel's Zombies, too.
If you missed the trailer for the DCOM, check that out on JJJ now and all the fun facts below:
She speaks Japanese, even though she hasn't been to Japan yet
She's a surf loving girl
If you have black coffee, she will be your best friend forever. "It's my favorite," she says.
She's really adventurous: "I love going on spontaneous adventures to anywhere. If someone is like 'We're going here', I'll always be the one tagging along."
Comedy is her thing: "I love comedy, because I love laughing. I love making other people laugh. It's the best feeling in the world."
Want more fun facts about Meg? Click inside now!
Obviously, she loves to sing [Inside fun fact: she was an understudy for Louisa in NBC's Sound of Music Live!]
Scuba diving is one of her favorite things too: "I almost got my scuba license, but I haven't just yet. I'm going to get it though."
She's an avid art gallery enthusiast: "I love going to art galleries and museums. I think those are so much fun."
She loves hiking too, "especially when you get to the top and you get the full overlook. It's an amazing thing."
She's a people person. "I love just being around people and I hate being by myself. Being around people and learning about them…I think everyone has something interesting about themselves and I'm always wanting to learn everything."
Like Just Jared Jr. on FB