Thu, 09 November 2017 at 11:45 am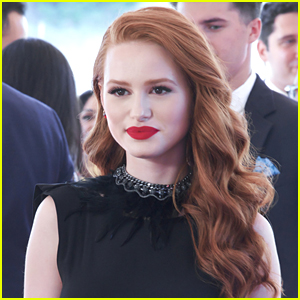 WARNING: SPOILERS AHEAD – DO NOT READ IF YOU DON'T WANT TO KNOW!
Madelaine Petsch just took on an extreme scene on Riverdale last night.
The actress' character Cheryl Blossom was drugged by Nick St. Clair and he took her back to his hotel room with the clear intent of raping her.
"I'll be honest, I cried," Madelaine confessed to ET. "I cried and I called my mom. I didn't tell her what happened, obviously, but I was like, 'This is a really heavy episode.'"
She adds, "This is a huge topic, especially right now with what's going on in the world, and it's so close to home and it's so important to portray it properly."
"I felt a huge responsibility to make it real, but then also there was a part of me where my heart was breaking," Madelaine shared. "So it was a very interesting moment for me to get that [script] and there was no warning coming."
In the episode, Cheryl said she wanted to press charges against Nick for his actions and this is actually a storyline that JJJ hopes we get to see play out in full.
WHAT DID YOU THINK of Riverdale's latest episode?
Like Just Jared Jr. on FB